Ice Industries Receives 2021 Cummins North America Supplier Best Delivery Award
With supply chains constrained worldwide during the ongoing pandemic, Ice Industries ensured their valued customer's production lines were continually supplied.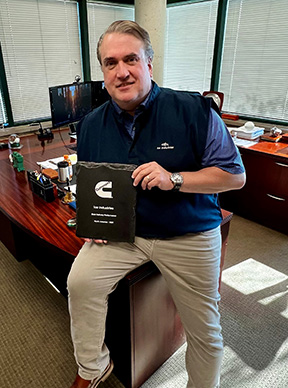 Paul J. Bishop, Ice Industries President
SYLVANIA, Ohio – March 28, 2022 – Ice Industries has been selected as the recipient of their 2021 Cummins Best Delivery Award.
Cummins Inc. a global power leader announced its 2021 North American and global Supplier Excellence Awards. Ice Industries, Inc. ("Ice") is honored to have been chosen to receive Cummins' Best Delivery Award for North America. In a difficult raw material environment, particularly during the first half of 2021, Ice was able to avoid any line stoppages and was honored for the actions it took to ensure delivery of its products. While the raw material steel market was constrained and demand for Cummins' products was increasing, it was necessary for Ice to expedite their processes and those of their vendors in order to keep product flowing without disruption.
Cummins' Executive Director of Global Purchasing, Priscilla Mendes, states: "Our suppliers are vital to our success at Cummins; we could not have served our customers so well without them. Our 2021 award winners have demonstrated excellence in one or all of the following areas: safety practices, diversity, quality, on-time delivery, innovation, customer service, corporate responsibility, and commitment to Cummins' core values. Cummins is proud to partner with our suppliers to enable our customers to succeed and power a more prosperous world."
"Ice is honored to have such a quality partner as Cummins not only as a customer, but as a company who recognizes our efforts to serve our customers, particularly during this time when all supply chains are challenged. Cummins' new technology initiatives and growing base of traditional business require suppliers who are collaborative, flexible, and dependable, as we seek to be every day," said Paul Bishop, Ice's President.
Ice is proud to serve Cummins' Engine from its Ice Industries Deerfield location in Mason, Ohio and Cummins' filtration division from its plant in Monterrey, Nuevo Leon, Mexico.
Howard Ice, Chairman and CEO of Ice went on to say, "Cummins' leadership and core values live within their business and drive their daily activities. Cummins' drive for excellence as a company is undoubtedly inspirational to all businesses, not just Ice Industries. As a Service Disabled Veteran Owned Business, we share those core values and aspire to emulate them as well."
Companies looking for these same advantages are invited to visit the Ice Industries website at http://www.iceindustries.com/manufacturing. For more specific information regarding what Ice's manufacturing prowess brings to the table, call the Company's headquarters at 419-842-3600, or contact any of their customer service specialists listed at http://www.iceindustries.com/manufacturing/contact-us.
About Ice Industries
Ice Industries, Inc. is a world-class supplier with a broad range of capabilities including: deep draw metal stamping; CNC machining; MIG, TIG, and resistance welding; assembly; rolled and welded pressure vessels, large format enclosures, high volume blanking, automated roll forming, and powder coating. Customers are assured of both company stability and quality performance through a diversified customer base serving markets including HVAC-R, automotive, commercial and heavy truck, alternative energy, filtration, fire & safety, furniture, healthcare, and off-highway vehicles. Facilities are distributed throughout the central manufacturing corridor, with locations in Cincinnati, Toledo, and Bowling Green, Ohio; Grenada, Mississippi; and Apodaca/Monterrey, Nuevo Leon, Mexico. Ice's production facilities are ISO 9001, ISO 14001, and TS 19649 certified. Ice works with companies that require the highest levels of quality and delivery, and those who are in need of localization or de-integration of their stamping operations. Further information can be obtained on the Ice website at http://www.iceindustries.com.
About Cummins Inc.
Cummins Inc., a global power leader, is a corporation of complementary business segments that design, manufacture, distribute and service a broad portfolio of power solutions. The company's products range from diesel, natural gas, electric and hybrid powertrains and powertrain-related components including filtration, after treatment, turbochargers, fuel systems, controls systems, air handling systems, automated transmissions, electric power generation systems, batteries, electrified power systems, hydrogen generation and fuel cell products. Headquartered in Columbus, Indiana (U.S.), since its founding in 1919, Cummins employs approximately 57,800 people committed to powering a more prosperous world through three global corporate responsibility priorities critical to healthy communities: education, environment, and equality of opportunity. Cummins serves its customers online, through a network of company-owned and independent distributor locations, and through thousands of dealer locations worldwide and earned about $1.8 billion on sales of $19.8 billion in 2020. Learn more at https://www.cummins.com.
Contracts
Jim Zawodny
Director of Sales
419-842-3626
Dennis Bryant
Director of Sales and Marketing
419-842-3636