Ice Industries Again Designated a Steelcase Premier Supplier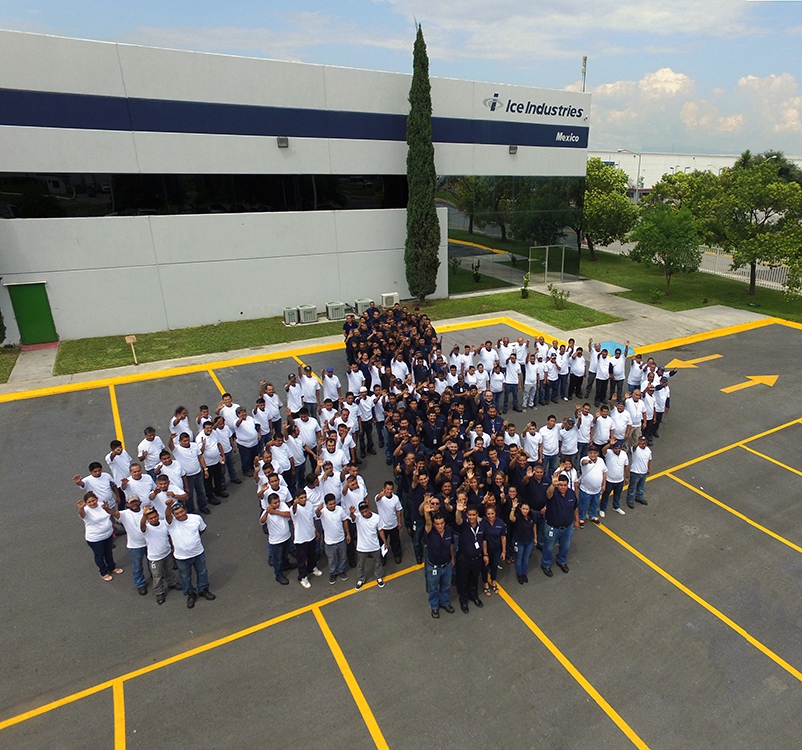 Ice's operational excellence exemplified by earning elite designation for the third straight year.
SYLVANIA, Ohio – September 28, 2016 – The world's most successful companies coordinate top-notch quality, operational efficiencies, timely delivery, and great communication as integral components of their business philosophy. When these philosophies are put into action, great supply chains often result. Once again, Ice Industries' dedication to these philosophies has been memorialized, with Ice receiving the designation as a Steelcase Premier Supplier for the third straight year.
Awarded annually, Steelcase's Premier Supplier designation is a prestigious and difficult honor to achieve. Premier Suppliers must meet and maintain rigorous relationship, quality, and delivery standards to achieve this designation. Ice Industries' metal stamping facility in Monterrey/Apodaca, Nuevo Leon, Mexico is one of fewer than two dozen out of Steelcase's hundreds of direct suppliers to be chosen for the award. This is only the ninth time a Steelcase supplier has achieved this designation for three years in a row.
Ice Industries Deerfield and Mexico's Director of Operations, Francisco Beltrandelrio, noted of the achievement: "The relationship between Ice Industries Mexico and Steelcase Reynosa keeps growing stronger every year, with great communication the key to our success together. This third in a row Premier Supplier is the result of two great companies working together."
Ice has steadily expanded its role with Steelcase, and now additionally supplies multiple Steelcase locations out of its Ice Industries Grenada location in Grenada, MS; and its Ice Industries Deerfield location in Mason, Ohio. Ice Industries is pleased to have expanded its working relationship with Steelcase well beyond the scope originally contemplated. Paul Bishop, President, and Chief Operating Officer of Ice Industries explained, "Our success with any customer can often be measured by the organic expansion of our business to other locations once that initial learning curve is conquered, and confidence grows between the two entities at all levels."  
Mr. Bishop summarized, "Steelcase is a unique customer. Not only are we motivated as their supplier to achieve excellence, but Steelcase has stated their desire as well to be the preferred customer for their supply base. Steelcase's approach guides our actions as their supplier every day."
Both Ice industries and Steelcase, Inc. look forward to continuing their shared philosophy of business excellence for many years to come.
About Ice Industries
Ice Industries, Inc. is a world-class supplier with a broad range of capabilities including: deep draw metal stamping; CNC machining;MIG, TIG, and resistance welding; assembly; rolled and welded pressure vessels, and powder coating. Customers are assured of both company stability and quality performance through a diversified customer base serving markets including appliance, automotive, commercial and heavy truck, computer and networking, defense, energy, filtration, fire & safety, furniture, healthcare, HVACR and off-highway vehicles. Facilities are distributed throughout the central manufacturing corridor, with locations in Cincinnati and Toledo, Ohio; Grenada, Mississippi; and Apodaca/Monterrey, Nuevo Leon, Mexico. A certified SDVOSB; Ice's production facilities are ISO 9001, ISO 14001, and TS 19649 certified. Ice works with companies that require the highest levels of quality and delivery, and those who are in need of localization or de-integration of their stamping operations. Further information can be obtained on the Ice website at http:/www.iceindustries.com.
Contact:
Francisco Beltrandelrio
Director of Operations
Ice Industries Mexico and Ice Industries Deerfield
419-842-3600 x4101